Not bad for a couple hours of WordPress gnashing. A new Smallest/Simplest Possible Learning Online Tool. Meet the TRU Collector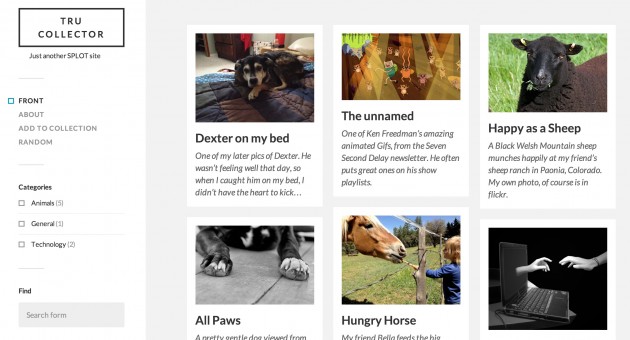 It's not all that novel. The idea came from TRU Instructional Designers Kelly Warnock and Melissa Melissa Jakubec who will be doing a workshop next Friday on finding openly licensed images (and we will have a version of this Tuesday for the You Show). What they described was wanting an online image gallery where participants could share the images they found.
Sounds like a SPLOT.
Their idea.
Again, the idea is a way people can build a shared pool of images, organized by maybe categories and tags, with some extra data for license and source info, but that would not require any accounts or selling of one's data tracks to [fill in the name of your not favorite data overlord].
I was able to re-use a good chunk of the code and approach of the TRU Writer. Similarly, when you access the TRU Collector, you are invisibly logged in to the WordPress site as an Author, but you never see the dashboard interface. The reason is this role is needed to access the media uploader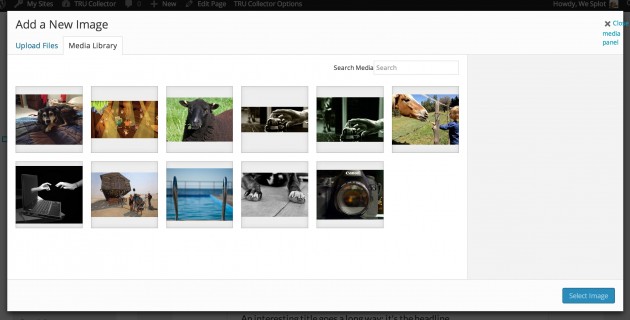 It is possible to do file uploads via a form button, but you do not have the drag and drop. Plus, when I program the uploads via the WordPress media uploader, it generates all of the various sizes of images the theme and core WordPress prescribes. I get access to all of the code that uses information from attachments, like getting the thumbnail image.
I am storing extra information as post meta data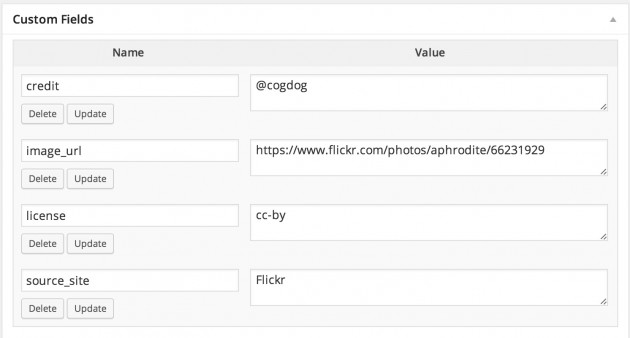 So I can then display it in a modified single.php template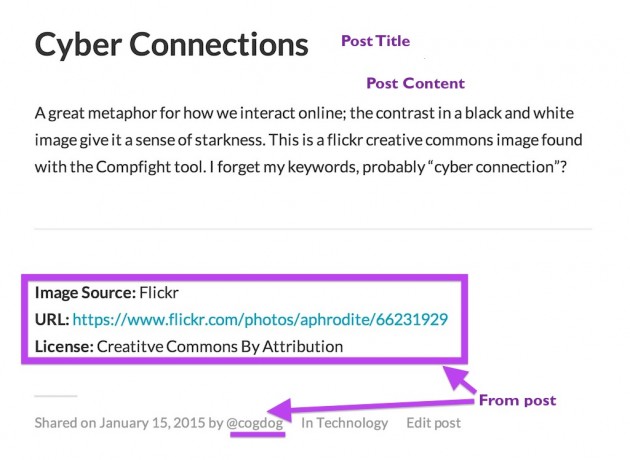 I am loving this theme– it is the free Fukasawa theme by Anders Norén (in the WordPress Repository), the same person who designed the Radcliffe theme I put to use on TRU Writer.
It is completely responsive, and the images on the single posts are just the featured image, displayed lovingly large.
I have a future idea to allow adding of videos in with a Collector site; this theme puts videos into the place of featured images.
He has about 9 free elegant themes, all of them sparsely programmed (there is no bloated theme admin panel, I am so tired of the ones I have seen in the last weeks) and are easy to modify for the child themes I am building. I put all of his free themes on our TRUbox site set up to host TRU staff and faculty.
Many of them are in play on a demo site I made to allow theme switching. The Baskerville one is gorgeous too.
In some later post I can dig more into the code bits, but for now, I'd appreciate giving it a try.
Go to the Collection Welcome Desk (the secret access code is tru collector), and upload hopefully and open licensed image. The form asks for the source URL and site name for where you found it, and the license as well.
The idea is again, someone could create versions of this site to maybe build collections of images (and maybe video) for a workshop, or for a class, or for a project. Or something else I have not thought of.
Oh, it does animated GIFs too.
Got SPLOT?
---
Top / featured image: Wikimedia Commons Public Domain Image http://commons.wikimedia.org/wiki/File:Genesis_Collector_Array.jpg