The SPLOT Tool I am most proud of is the TRU Writer– there is more to write later about how it represents the SPLOT idea. We made it first as an experiment in creating a rich publishing platform that people can use without creating accounts, and thus, choosing how people can choose their level of disclosure online.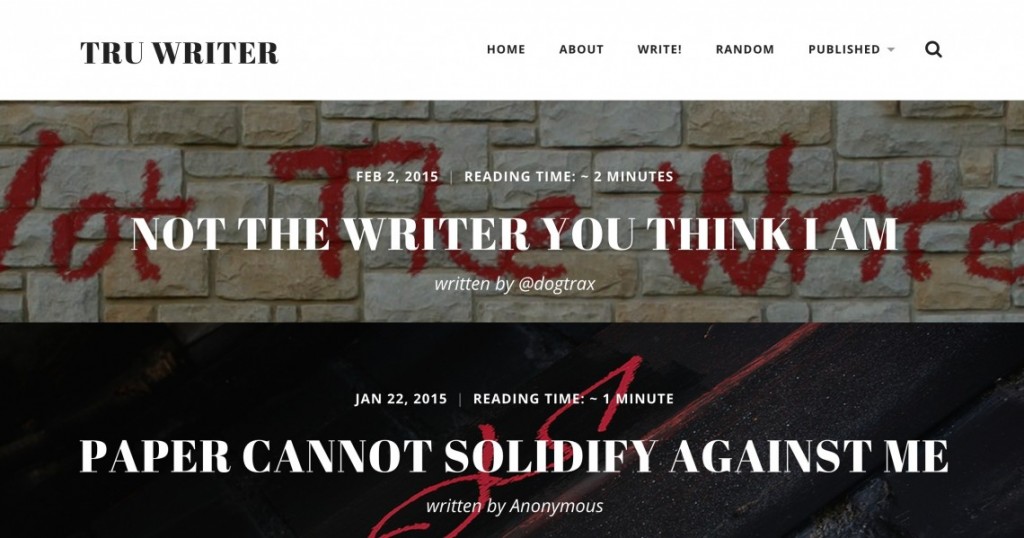 The ket point for this was figuring out on an earlier tool how use WordPress as a publishing platform capabilities, but never giving people access to a full account. Not every publishing act needs to be teaching a software platform. So we secretly login people in as an invisible user, to give them access to the rich text editor and the WordPress media uploader– but they never know to see the insides of WordPress.
The demo site we created (and two in use by an English professor) are the more typical approach of a front index of stories with the newest at the top. Bloggy. In the last few weeks though, using just a built in feature of WordPress, I have created sites that provide the same publishing features, but present the site more like an online journal, starting with a table of contents.
This is as simple as each issue of the journal gets it's own Category; articles/papers are published as posts, and each issue has a corresponding static page as a table of contents. And we use the WordPress feature to make the current issue's page set as the front of the site.

Another internal page (just a blank one called Articles) is where the normal front page flow of posts goes, so its the list of all articles, newest first.
Thus as new issues are added, the previous table of contents page is now the entry to its archive. We hang off of the menus a link to the Table of contents page as well as a sub page for the corresponding categories.

The idea to experiment with web-native publishing platform for journals was one of the desirable outcomes for my Fellowship. I met early on with Will Garrett-Petts (Associate Vice-President
of Research & Graduate Studies) to discuss this possibility; he leads the publications of a the Small Cities Imprint, a journal that publishes online using the Open Journal Systems platform.
As I understood it, the software is a bit complicated, and there is no one at TRU that understands it enough to manage. It is meant as a complete management system for running the review and editing process. I have no basis to criticize it, but as a comparison for what I will show you, look at the first issue. The papers themselves are presented as abstracts with links to PDFs and extraneous information such as appendices (PDFs) or videos that do not play.
It is pretty much, to me, paper on a screen.
My early conversation with Will was helpful, as I discussed the possibility of rich media publishing n WordPress I could see some interest fading, as what became apparent is that all of the writing, editing, layout proofing happens like elsewhere- some process of shuttling around MS Word files.
At the time, my assumption was any attempt to paste content from Word into the WordPress editor was an invitation to HTML Cruft From Hell, and carrying over of usually inconsistent formatting that Word generates.
Then I did some research; as of maybe the 3.8 version of WordPress, the TinyMCE editor was updated so it strips out ALL of the non-structural Word formatting- it preserves headings, italic, bold, tables, lists, links, and especially telling- footnotes.
As an experiment, I decided to reproduce that first issue of Small Cities Imprint using the TRU Writer platform. It took me maybe 4-5 hours and could ave been a lot less. Now I am pretty deft at WordPress; the main time sink was I did not have a complete set of the Word doc originals and I had to ferret around the OJS files system just to locate them; it also took some time to locate relevant graphics, and n some cases, to find one of the videos that was in the project's vimeo archive.
Enough blather, here is the Small Cities Imprint in a web-native format: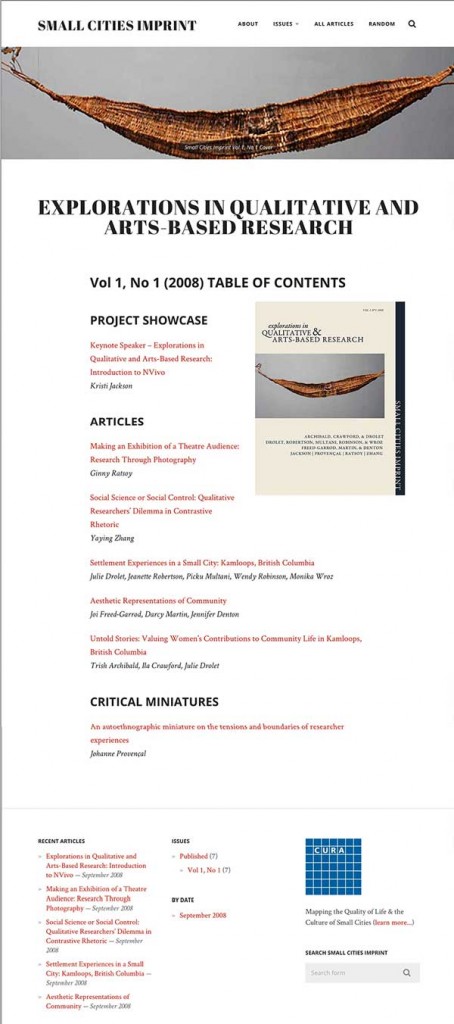 I have PDFs linked from each article; I think they should be added to the table of contents. And I could have taken a lot more effort to find hyperlinks from the papers.
This was really done as an experiment, not to boast that My Way is Better. Our hope is that they folks that run the journal might be interested in converting more of their issues here.
But the other important aspect here is the comparison of using a platform like OJS, which one ends up having to fit their needs to its features or capabilities, in a platform we can bend and flex like WordPress, we can take the initial intent of TRU Writer as a composition and sharing tool, and just slightly restructure it to work like a journal. It's like we can make small mutations of our tools to fit our purposes, rather than fitting our purposes to a system.